Anne Marie Letko
Anne Marie Letko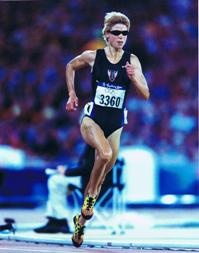 Anne Marie had a long career as one of America's best distance runners. She saw great success on the roads at a variety of distances from the 10k to the marathon. Anne Marie won the Lilac Bloomsday Run in 1993, the Peach Tree Road Race in 1994, the Crim 10 Miler in 1994, and 3 times finished in the top 3 at Bay to Breakers. She also won the US 15k title in winning the Gate River Run in 1994. That same year Anne Marie went on to place 3rd at the New York City Marathon running a personal best of 2:30:19.
Anne Marie carried her road racing prowess into the 1996 Olympic Trials where she finished 3rd to make the US Olympic Marathon Team. At the 1996 Olympic Games in Atlanta Anne Marie was the top US finisher crossing the line in 10th place in a time of 2:31:30 in the hot and humid Atlanta weather.
Anne Marie also saw great success on the track as well. In 1991, she won the 10,000 metres at the World University Games in Sheffield, England in what was a personal best for her at the time of 32:26.87. She made 3 World Championship teams at 10,000m for the United State and her 31:37.26 at the 1993 World Championships in Stuttgart, Germany not only garnered her an 8th place finish, but it was the fourth fastest 10,000 by an American woman of all time.
After making the US Olympic Team in the marathon at the 1996 Games she did something rarely seen in the world of distance running in 2000. After not making the Olympic marathon team at the Olympic Trials, Anne Marie came back at the Track and Field Olympic Trials and made her second Olympic Team - this time at 5,000m.
Anne Marie is a native of Glen Gardner, New Jersey, Letko graduated from North Hunterdon High School in Clinton Township in 1987. In 1992, she earned a B.A. in English from Rutgers University. She is still an avid runner and currently lives in Jackson, Wyoming working as a Certified Massage Therapist.