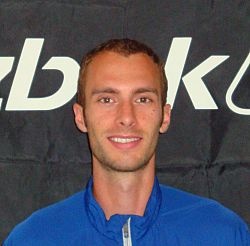 From Coach Warrenburg,

I work with athletes of all levels, and regardless of your running experience or personal goals, everyone can use guidance in their daily running to maximize their potential, stay injury free and most importantly, to keep running fun and enjoyable. I work with runners competing over a variety of distances from the 5k to the marathon, and it doesn't matter if you are a highly experienced runner or are just getting started in the sport.

I work with each client and create an individualized training program geared toward their personal goals. Everyone's training structure is a little different based on their goals and background, but I approach training from an aerobic, strenght based perspective geared toward both short-term success and long-term development. The typical fee is $100 a month payed to the ZAP Fitness Foundation, in return I will provide each client with unlimited email contact and training consultations.

If you have any questions please contact me or feel free to call ZAP at 828-295-6198 for more information. I would be happy to talk with you more about my coaching philosophy and your personal goals.
PRIVATE COACHING RACE UPDATES


Posted March 12, 2012
Time for another private coaching update! The winter has been a great mix of racing in everything from the 3k's to 50 mile trail runs.

Back in November, high school athlete Jimmy McAlister posted a personal best 5k Cross Country time of 15:15 in taking 13th place at the Footlocker South Regional Championships. Jimmy was only 3 places away from qualifying for the National Championships in San Diego, but he has turned his attention to running track where he has already run a PR in 3k of 8:47. Jimmy will be racing the Raleigh Relays 10k at the end of March before looking ahead to the Penn Relays and then the US National High School Championships in June.


Master's All-Star Tim Meigs has been training well coming off his top 10 finish at the US Master's Marathon Championhips at Twin Cities Marathon in October. Tim came out to Houston to run the half marathon and cheer on the ZAP athletes at the Olympic Trials. Despite running around with Coach Warrenburg during the Olympic Trials race Tim came back the following day and ran a PR of 1:14:42 in the Houston Half Marathon. Tim ran the Charlotte Half Marathon this past weekend as a marathon paced effort in his buildup to the Boston Marathon.

Also getting ready for the Boston Marathon is James Dill who ran a Half Marathon PR of 1:19:12 two weeks ago. James is another high level Master's Runner who is training very well heading into Boston. Sheri Nemeth is also preparing to race Boston, but she has also been focused on competing in the local State Parks Series which she recently won. Sheri has been running minutes faster in all her races this year including a big PR of 1:39:39 at the Naples Half Marathon. Another Boston competitor, Eve Mills, has been building strength through running a variety of marathons for fun over the past few months as well as enjoying the midweek workouts. She is looking forward to applying that strength to her run this weekend at the National Marathon in DC as well as Boston.

Newer clients Annette Towler and Julie Richter are preparing for Spring Marathons. Julie will be racing at the Shamrock Marathon this weekend while Annette will be toeing the line in Green Bay later in May. Julie is ready to run well this weekend having run a marathon paced half marathon two weeks ago only 3min off her half marathon PR from earlier this winter. Also running marathons this weekend will be Brent Fields at the Atlanta Marathon on Sunday. Brent is looking forward to the event for the second year in a row, this time as a Master's runner, after running a Half Marathon PR on Thanksgiving Day of 1:18:23.
Tracy Legal will also be running a marathon this weekend, the LA Marathon. At the Cal International Marathon in December Tracy ran a PR, breaking 4hrs for the first time. Joining Brent in Atlanta this weekend will be Randy Leeder, but he will be running the Half Marathon. Randy has recently run a big 10k PR of 43:08!
Local client, Ray Russell, finished the NYC Marathon this fall in 3:35 and will be looking to better that mark and run a PR at the Vermont City Marathon in May. Reagan White is back training with Coach Warrenburg for her spring marathon this year, the Nashville Marathon in April.
New client Mark Turner is focusing on the shorter distances this spring, he will be running a 5k this weekend and is looking forward to getting his 1 mile time down. Jackie Parsons, another new client, is also looking forward to running some shorter distances after her marathon debut of 3:21 earlier this winter. Cathy Wides is another athlete looking to improve on some of the shorter events. Cathy has been training very well this spring after winning the national title at the US Marathon Championships in her age group this fall.

Jara Ahrabi and Jessica Amy from Lafayette, LA spent the winter preparing for their first ultra marathon. Jessica ran a PR at the Philadephia Marathon before focusing on training with Jara for the Rocky Raccoon 50 miler last month. Both women had great races, finishing in the top 30% of all finishers (not to mention the many that didn't finish). The women encountered thunderstorms early in the morning making for a very muddy 50 miles, but they were able to stay tough mentally, both finishing just over 10:20 and Jessica winning her age group!


Stay tuned and good luck to everyone with their upcoming spring races!
Posted October 31, 2011


It has been awhile since the last private coaching update, but we're back and have a lot of racing to report on over the last few weeks as the fall racing season has swung into full gear.

Leading off the update this time is news from this past weekend's Marine Corps Marathon. Two private coaching clients toed the line at the MCM in Washington D.C. this weekend, and both came away with it from lifetime PR's! Despite arriving to snow and unseasonable winter weather on Friday and Saturday, Sheri Nemeth and Christopher White had chilly but clear weather out on the course Sunday morning. Sheri, from Johnson City, TN ran an 11 minute personal best and Boston Marathon Qualifier despite arriving late and weaving her way through traffic the first half of the race. After passing halfway a shade under the 2hr. mark Sheri ran well over the second half of the race to turn in an official time of 3:54:40! Chris White, an active member of the Marine Corps posted his first sub 2:40 marathon, running 2:39:25. Chris ran tough over the final miles of the race to run under 2:40 and post an average of 6:05 pace for the 26.2 miles.

Long time private coaching client and former ZAP camper, Jara Ahrabi, continued the string of PR's this fall in slashing 4 minutes off her half marathon PR at the Des Moines Half Marathon earlier this month! Jara ran 1:46:44 for the half marathon. She came through the 10k right at her 10k PR and will be looking to improve upon her 10k in the next couple of weeks near her home in Louisiana. Along with her training partner, Jessica Amy, she will be running her first ultra marathon this winter - a 50 mile trail race in February. Jessica, another ZAP client, is looking forward to running well at the Philadelphia Marathon in the interim.

Last month at the Twin Cities Marathon two coaching clients and ZAP campers posted very impressive results at the US Masters Marathon Championships. Tim Meigs, from Raleigh, NC ran a personal best in taking 3rd overall in his age group and 10th overall among Masters runners. Tim ran 2:37:53 to improve upon his PR set at Boston earlier this year. Leading into the Marathon Tim had helped his Blue Ridge Relay team to the overall Masters title and 3rd place overall in a new Masters Course Record. Tim ran a very well executed race, passing the halfway mark in 1:19:12 and then moving forward on the back half of the course, even with a tough hilly section toward the finish line. Congratulations to Tim on his Top 10 performance at the US Masters Championships!

Also competing in Twin Cities at the US Masters Marathon Championships was Cathy Wides. Cathy, at age 62, cruised through the halfway mark in 1:38:40 feeling comfortable. However, she was hampered by a hip problem the second half of the race that slowed her down tremendously. Despite her hip, Cathy hung on to win the National Title in the 60-64 age group by a staggering 15 minutes! Cathy's finishing time of 3:28:08 was good enough for 3rd overall in the age graded results among Masters competitors. Cathy is now back to training healthy and looking forward to the US Half Marathon Championships in early February. She is also very excited to come back to Twin Cities next fall, run even faster, and defend her National Championship. Congratulations to Cathy on her National Championship run at the US Masters Marathon Championships!

High school senior, Jimmy McAlister is in the midst of a breakthrough cross country season under the tutelage of Coach Warrenburg. Jimmy has set a personal best every time he has toed the line this season, including a non-official time trial this past weekend at McAlpine Park in Charlotte. Jimmy, unable to compete in sanctioned high school events as a home-schooled athlete, went to the course and time-trialed what would have been a 5k cross country PR of 15:36. Previously, he competed at the Blue Ridge Open in Boone against collegiate athletes. Jimmy more than held his own, turning in a 28th place performance that would have put him on the varsity squad of any of the competing colleges and universities. His time over the 8k (5 mile) course of 25:49 bested his time from the previous season by over a minute! Next up for Jimmy will be the Footlocker South Regional Championships the weekend of Thanksgiving!

Stay tuned for more updates - Ray Russell and Lesley Platek will be competing this coming weekend in the New York City marathon. The following week, Reagan White will be toeing the line at the Richmond Marathon and the weekend of November 20th Jessica Amy and Eve Mills will be racing at the Philadelphia Marathon.


Please feel free to login and leave comments underneath the update article. And if you have any interest in personal coaching through ZAP Fitness please check out the information below.
Posted May 9, 2011


There has been a lot of racing action that has taken place over the last few weeks to get caught up on. ZAP private coaching clients have seen races from the mile to the marathon since the last update, so let's get started.

Ray Russell made his return to competition at the Boston Marathon a year after racing through injury to finish his first Boston. Ray has been working with Coach Warrenburg since the fall, and after coming back from a 16 month long injury, Ray was only able to put in a few short weeks of quality training. However, despite that he was still able to get his Boston Qualifier at the Boston Marathon and will look forward to competing at New York in the fall.

Jara Ahrabi, coming off a half marathon PR in March, competed at the Eugene Marathon on May 1. Despite being a little under the weather in the week leading up to race day, Jara was able to run strong over the second half of the race and turn in a 4 minute personal best of 3:56:12 to get under the 4 hour mark for the first time. Jara's previous personal best was set in Columbus in the fall where she was a few agonizing seconds away from breaking the 4 hour mark.

ZAP camper, Melissa Pfaffenbichler, was able to run right at her PR in the half marathon of 1:43 on April 30th. She has been working with Coach Warrenburg for just under 2 months and the 1:43 half marathon has her rejuvinated and ready to take on some more races this summer.

Competing over the shorter distances has been high school junior Jimmy McAlister. This past weekend on May 8, Jimmy set a new personal best in the 5k, running a very quick 15:27. Jimmy used a well calculated, even paced race to move through the field and finish 17th in a field of 35 college athletes. Jimmy equalled his personal best for 2 miles enroute, passing the 2 mile mark at 9:55.

Also competing this past weekend was the father-daughter duo of Gary Fulton and his daughter, Laura Fischer. They competed at the New River Half Marathon up here in the high country. Laura was able to fight through some difficult stomach problems and the tough course to finish the inagural event with her father by her side the entire way.


Check back soon for more racing updates as marathons, road races, and track races are on tap in the coming weeks. Please feel free to login and leave comments underneath the update article. And if you have any interest in personal coaching through ZAP Fitness please check out the information below.
Posted March 30, 2011


As we head full force into spring the racing season is upon us. Over the past two weeks ZAP private coaching clients have seen a handful of races in distances ranging from 1,500m to the marathon.

Two weeks ago was a big weekend with four athletes competing in both the marathon and half-marathon. Racing the half marathon in a tune-up for the Boston Marathon was Harry Pino. Harry competed in the New York City Half Marathon and executed the race perfectly, running the first 10 miles at marathon effort and then finishing strong over the final 5k to place 25th in his age group. Harry will see action next at the Boston Marathon, now less than 3 weeks away!

Competing in the Seabrook Lucky Trail Half Marathon the same day in Texas was ZAP camper Jara Ahrabi. Jara had a strong finish and ran a half-marathon PR or 1:50:35 to place 5th overall and 1st in her age group. She ran very consistent over the first 10 miles, pacing herself well, and then turn on the after burners the final 5k to move into the top 5 on the women's side. Jara is coming off a strong fall that saw her run a big PR at the marathon, nearly breaking 4 hours. Jara will be looking to be well under that 4 hour mark at her next race, the Eugene Marathon on May 1.

Brent Fields, fresh of a 10k PR a few weeks ago, raced the Georgia Marathon and came up with another PR! Brent broke his previous PR from 2004 by over 1:30 to take 5th place overall. Brent was in battle down to the finish to hold onto his top 5 spot and was able to do it running 2:47:33.

Gary Fulton was competing in his second marathon since starting to work with Coach Warrenburg at ZAP. In his first outing this past fall Gary chopped over 11 minutes of his previous personal best. This time around, Gary was running in his own back yard at the Tobacco Trail Marathon in Raleigh, NC. Gary was able to use the familarity of the course to his advantage and came away with another big PR, taking over 3 minutes of his best from this past fall. Gary's time of 3:48:29 was good enough to place him 11th in his age group.

Rounding out this update is high schooler Jimmy McAlister. Jimmy raced at the famed Raleigh Relays this past weekend on the track, racing the first 1500m of his life. Jimmy sat in the pack through the first three laps, and with 600m remaining took to the front, opening up a gap heading into the final lap. Jimmy ended up getting passed by 3 college athletes to finish 4th in his heat. He posted a very impressive debut time of 4:11.29 - the equivalent to a 4:29 mile. Jimmy will compete next this weekend in both the 1 mile and 2 mile distances at the Blue Devil Invitational in Mooresville, NC.
Check back soon for more racing updates as marathons, road races, and track races are on tap in the coming weeks.
Please feel free to login and leave comments underneath the update article. And if you have any interest in personal coaching through ZAP Fitness please check out the information below.
Posted March 2, 2011
This is the first entry in what will be a regular update on the ZAP Fitness private coaching clients and their race results.

The spring racing season is just around the corner, and for some of the private coaching athletes the racing has already begun. Over the last two weeks 3 runner have seen action on the track and the roads.

Two weeks ago at an Appalachain State indoor track meet, Jimmy McAlister competed unattached in the 3,000m run. Jimmy is a high school junior and has been working with Coach Warrenburg since the fall of 2010, a season that saw Jimmy run personal best times in cross country. Jimmy clocked a time of 9:!5 for the 3,000m event, tying a personal best in his first race of the season. However, with the altitude conversion used by the NCAA and USA Track and Field Jimmy's time would be 9:07.89, a personal best by over 7 seconds!

This past weekend 2 other runners competed in 10k races on the roads. In Atlanta, former ZAP camper Brent Fields, sliced one second off his 10k personal best from 2004. Brent took 4th place at the Charles Harris 10k clocking a very quick time of 33:32! Brent has been working with Coach Warrenburg since the fall as well, a racing season that saw Brent run a personal best time of 1:18 in the half marathon on Thanksgiving.

All the way down in Puerto Rico, Harry Pino competed in the highly competitive World's Best 10k. Harry battled the difficult course and warm temperatures to finish in the top 3% of the field. Harry will now be turning his focus to the Boston Marathon next month. Congratulations to Jimmy, Brent, and Harry on some great performances over the last 2 weeks, and we are looking forward to some more exciting news to report soon!

With spring marathons and road races coming up be sure to check back for more updates. Please feel free to login and leave comments underneath the update article. And if you have any interest in personal coaching through ZAP Fitness please check out the information below.